Mold Inspections and Testing
What are Professional Mold Inspection and Remediation Services?
Mold growth in any house is toxic. It pollutes the indoor environment dangerously. It can also release mycotoxins which are toxic and pose a danger to animals and humans.
Dunn Inspection Services is certified to inspect and deliver a laboratory report detailing exactly what type and amount of mold you may have.
Our experience and attention to detail insure that your problems will go away and not come back, and that your home will be safe to live in.
A Few Facts To Consider
Mold is present almost everywhere, indoors and outdoors.
Mold spores are microscopic and float along in the air and may enter your home through windows, doors, or AC/heating systems or even hitch a ride indoors on your clothing or a pet.
Mold spores thrive on moisture. Mold spores can quickly grow into colonies when exposed to water. These colonies may produce allergens and irritants.
Before mold remediation can begin, any sources of water or moisture must be addressed. Otherwise, the mold may return.
Mold often produces a strong, musty odor and can lead you to possible mold problem areas.
Even higher-than-normal indoor humidity can support mold growth. Keep indoor humidity below 45 percent.
 
What Services Do We Provide?
We provide mold testing, mold assessments and investigations in the greater Houston area. Our mold inspectors /consultants are TDLR state licensed and insured. We also do mold testing when an investigation is not necessary with air quality sampling.  These samples are then analyzed by an independent licensed laboratory which includes a detailed report we share with you.
Click Image To View Inspection Video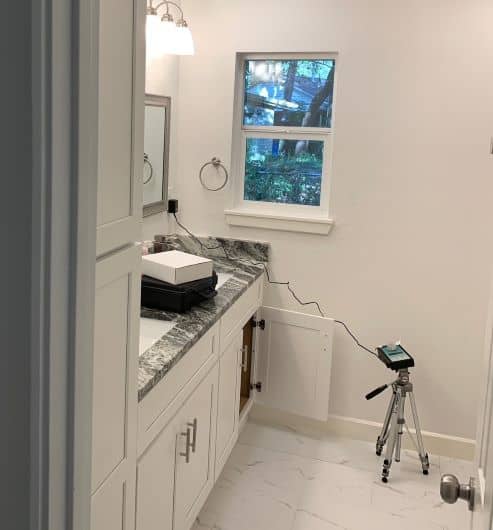 Be aware that a hidden mold growth condition can be present at any location where water penetration and/or high humidity has occurred.
We can assist BEFORE you have mold problems.  Let us investigate if you have had a pipe leak or freeze damage, roof leak, washer machine or dishwasher water failure.  What about a leaky toilet or faulty shower pan which are very common and can cause considerable damage if left unnoticed.  According to the EPA mold growth can occur within 48 hours of such water events. 
https://www.epa.gov/mold/brief-guide-mold-moisture-and-your-home guidelines. 
We can be of assistance when Homeowner or occupant complain of musty odors or experiencing allergy or respiratory symptoms when inside the home or building. 
We can clear structures after remediation work has been performed to insure both mold and the source(s) of moisture causing the mold growth has been reasonably eliminated. 
We can generate findings during your option period for an informed real estate purchase decision and indoor air issues or mold. 
Mold Investigations and Assessments include the following services: 
We perform a visual investigation of both the exterior and interior of the structure including the accessible areas of the attic. Our trained consultants look for mold growth, current water leaks or moisture intrusion, evidence of previous moisture damage and the potential for future issues. In addition, moisture meter readings are taken on the walls, cabinets and other surfaces around all lavatories, showers, appliances, and any suspect areas.  
Air samples are collected and analyzed by an independent and licensed laboratory that identifies the quantity and species of mold spores. 
When a suspect wet or stained wall is present, a wall cavity air sample can be collected to evaluate the presence of mold growth inside the wall (typically we drill a single 3/8" diam hole).  
Surface sampling to identify the type of mold is available when necessary.  
Written report and easy to understand laboratory analysis. An assessment of the indoor air quality relating to mold is provided. Problem areas in the residence or building are identified that may contribute to future mold growth. 
Practical communication with clients. In the event that a mold problem is evident our inspectors will explain that it is not normally so critical to the extent that occupants should vacate the home or building. Clients should understand that problems can often be rectified with minimal effort and expense. 
A remediation protocol can be generated when a significant mold issue has been identified and the home or building requires a remediation contractor. TDLR State licensed remediation contractors are required to perform the remediation process according to the instructions and guidelines from the remediation protocol we write.
General Guidelines for maintaining indoor air quality
Keep windows and doors closed and use weather stripping, including for attic access doors.
Operate the environmental controls as normal (air conditioner or heater in winter) to maintain indoor relative humidity levels at or below 55%
Do not operate in the "fan only" mode of the central air conditioner.  
Do not use candles or artificial air fresheners or wood burning fireplaces. 
The use of quality HEPA room filter(s) while maintaining indoor relative humidity levels at or below 55%. 
Use a room Dehumidifier if you have *elevated relative humidity levels. 22 PT Pint (min.) 
NOTE: Follow all manufacturer instructions 
Call Us Now